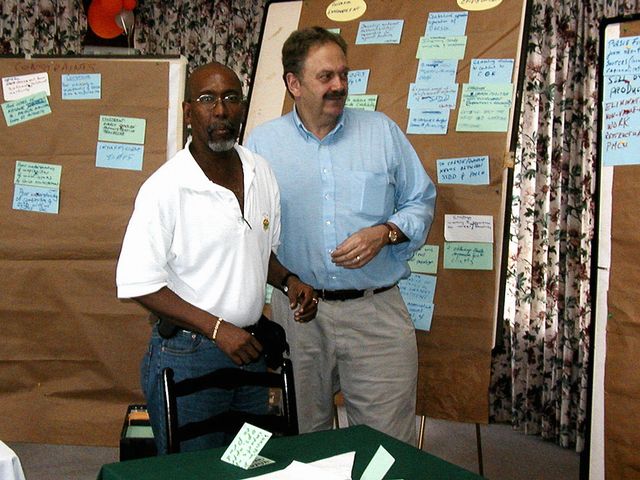 Picture: working with the OECS, St. Lucia.
Recent AIM consulting assignments include: Developing an SME standards system implementation program for the Standards Organisation of Nigeria, Establishing a Proposal Hub for the Barbados Private Sector Association, Designing and conducting a survey of regional aid program effectiveness for the CARICOM Secretariat, Preparing a business plan for the OECS Transportation and Distribution Company, and Preparing a MSME Policy and Strategy for Vanuatu, including implementing legislation.
Other selected projects include:
Developing plans for monitoring and evaluating MSME programs in Lviv Oblast, Ukraine


Preparing a MSME Policy and Strategy for St. Vincent and the Grenadines


Developing a new Operational Plan for the Environment and Sustainable Development Unit of the Organisation of Eastern Caribbean States


Working with team to prepare a new industrial policy and small-medium enterprise policy for the government of Curaçao, Netherlands Antilles, in anticipation of its attainment of a new, autonomous constitutional status.


Preparation of a plan for the re-launch of the Dominica Association of Industry and Commerce, including strategies for marketing, staffing, finance, governance and strategic partnerships.


Played key role on team that prepared new constitution, bylaws and governance system for the International Federation of Purchasing and Supply Management, Switzerland.


Development of a business plan for the launch of a new business support services unit of the Kamer van Koophandel et Fabrieke (KKF), Paramaribo, Suriname.


Support for the consolidation of the Private Sector Organization of Jamaica and four other business associations in that country. Services included development of a project proposal (accepted by CIDA); organizational assessments of all participants; organization structure for consolidated organization; governance system revisions including new Articles of Association; draft strategic plan, proposed budgets; project implementation plans; marketing plans, association management training programs; operating manuals.


Preparation of a business plan for CPEC Inc, a new project management and training institution, to assist it to become a viable, effective successor to the CIDA-funded CPEC human resource development project in the Organization of Eastern Caribbean States and the Caribbean region.


Support for the institutional strengthening of the Guyana Manufacturers' Association. Services included development of a project proposal for CIDA approval; organizational assessment; governance report and recommendations, team-building support, financial analysis, plans and support for operational and customer service improvement.


Design, facilitation and delivery of advocacy, service and communication skills training workshops for associations and community leaders in regional centres throughout Jamaica. Special focus on smaller firms and community groups.